Better to Speak of It
Fostering Relationships & Results through Creativity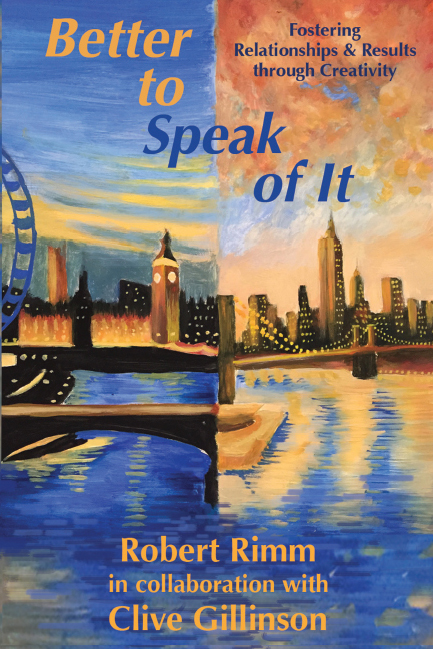 by Robert Rimm in collaboration with Clive Gillinson

Why is creativity so often pushed to the front of the auditorium yet to the back of the classroom? This question can validly be asked across a wide swath of society, from relationships to careers. People seem ever reluctant to break out of the accepted norm (or perhaps more accurately, the accepted mold) to explore fresh alternatives and perspectives. Yet when applied with integrity and respect, creativity can open up a wide range of possibilities and opportunities. Ask questions. Be curious. Engage the classroom. Innovate. Take that well-considered risk. The enabling resources are rarely far behind.
Better to Speak of It is a book of core management and personal values written by Robert Rimm, managing editor of Arch Street Press, in collaboration with Clive Gillinson, executive and artistic director of Carnegie Hall. The book offers specific, first-hand experiences from Gillinson and the leaders of key nonprofit, corporate, educational and cultural institutions, including the NYC Department of Education, Museum of Modern Art, New York Public Library and Juilliard, and major performing artists such as Joyce DiDonato, Anne-Sophie Mutter, Jessye Norman and Michael Tilson Thomas. Better to Speak of It appeals to readers—including nonprofit directors and managers, corporate executives and employees, arts-administration staff and students, and the public interested in the health and well-being of the arts—seeking insight into how creativity yields substantial results. The book explores the vital benefits of innovation and organizational management, serving others and effective partnerships, access and mentoring, budgeting and well-considered risk, media and effective communications, education and lifelong learning, while also examining pervasive management practices that can all too easily lead to stagnation and failure, particularly relevant in times like these when whim often leads to decree.
Clive Gillinson—recipient of many university, cultural and government awards including the CBE (Commander of the British Empire) and later a knighthood—develops the artistic concepts for Carnegie Hall presentations and oversees all aspects of the world-renowned venue's management, including strategic and artistic planning, resource development, education, finance and administration, as well as operations for the Weill Music Institute, which offers extraordinary educational opportunities and access to more than half a million youth and adults both regionally and internationally each season. Gillinson began studying the cello at age 11 and played in the National Youth Orchestra of Great Britain. He went to London University to study mathematics, but realized that he wanted to make music his life and entered the Royal Academy of Music, where he gained a Recital Diploma and won the top cello prize before joining the London Symphony Orchestra in 1970. He was elected to its board of directors in 1976 and also served as finance director. Eight years later, he became its managing director, a position he held until becoming the executive and artistic director of Carnegie Hall in 2005.